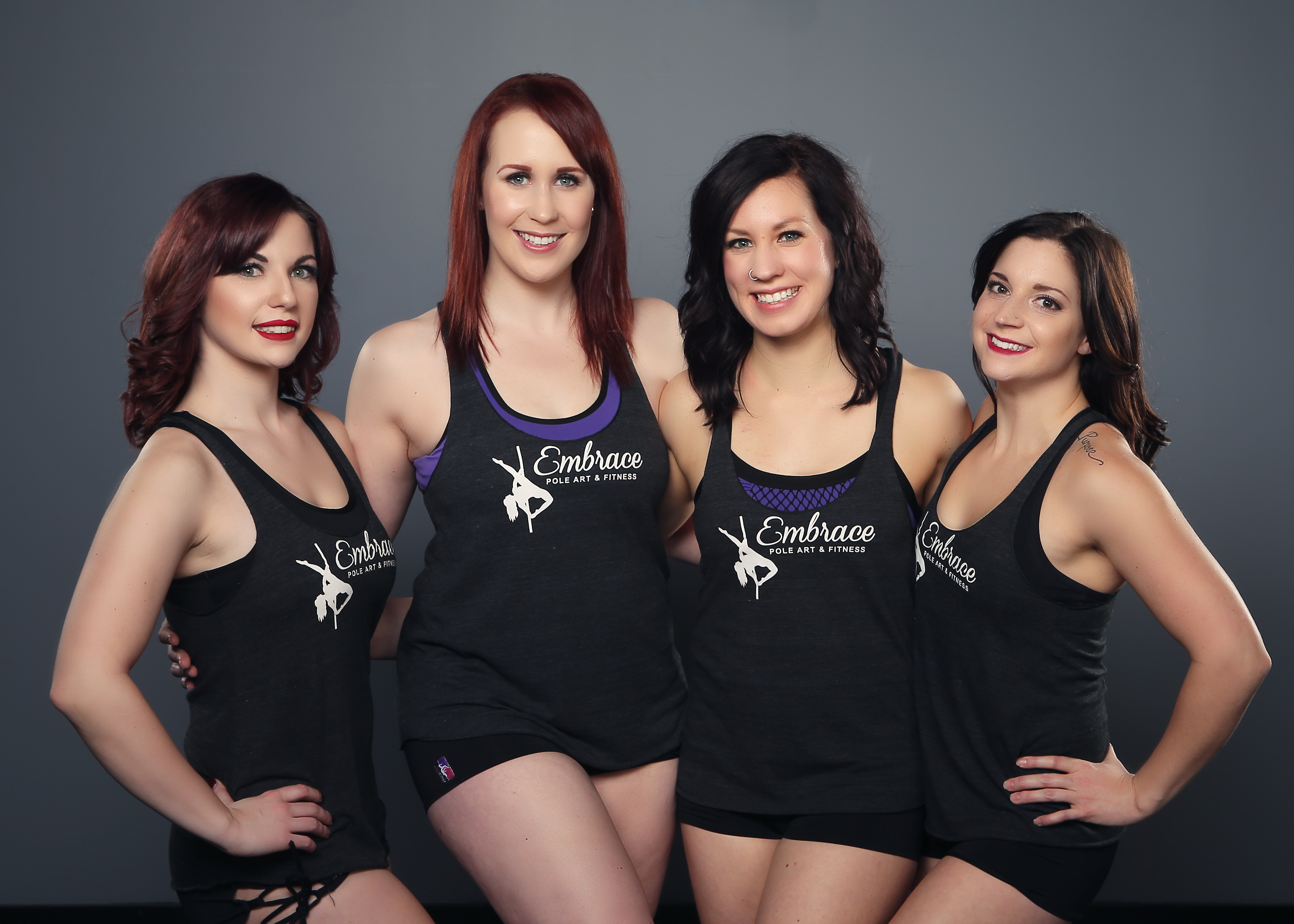 Why Choose Embrace?

With so many incredible fitness studios in the Edmonton area, you might ask yourself, "Why choose Embrace?". Let us tell you what makes us so great!
Small Class Sizes
At Embrace we know the importance of having one-on-one time with your instructor. As with other aerial disciplines, it's essential to have proper spotting and attention when learning new tricks. For our Pole Fitness classes, we guarantee no more than 7 students per instructor. This allows our instructors to give you the best possible experience and ensure each student is learning their pole tricks safely and with proper technique. In addition, we guarantee each student in a Pole Fitness or Choreography class has their own pole to practice on. We know you'll love pole so much you won't want to share!
 Newly Renovated Facility and Top of the Line Equipment
Our spacious studio includes 13 competition grade chrome X-Poles, which all convert from static to spinning. The high ceilings allow you to use the full 13 feet of each of our poles. Poles are just the beginning of the equipment we have included in our studio; Other equipment we utilize in our classes includes exercise balls, a ballet barre, Pilates balls, resistance bands, dumbbells, a pull up bar, stretching straps, and Rubberbanditz. Recently, we have added hand balancing canes to the studio! We look forward to continuing to add innovative equipment to give our students the best possible training environment.
Fitness Focused Classes
As the art of pole dancing has evolved, it has developed many different niches for artists to explore including pole sport, contemporary pole art, and exotic pole dancing. Our pole fitness classes are designed to teach you pole skills and techniques so you can decide what type of artist you want to become. Whether you want to be the next Canadian pole champion or you just want a fun way to get in shape, our pole fitness classes will help you reach your goals! Not a fan of the sexy side of pole dancing? No problem! Our pole fitness curriculum is not designed around sensual pole dancing. If you are interested in exploring exotic style pole dancing, we recommend our heels choreography sessions and exotic pole workshops.
Variety of Classes
Cross training is important for injury prevention and to maintain well balanced musculature. This is one of the reasons Embrace offers a variety of drop-in fitness classes to complement our pole classes. Our fitness classes include Barre, Stretch, Handstands and Balancing, Booty Boot Camp/Abs of Steel, and Pole Calisthenics.
In addition to our Pole Fitness classes we also offer other exciting 4-week sessions to further develop your pole skills. These include Heels Choreography, Pole Art, Pole Choreography, Burlesque, Spin Pole Combos, and Floor Flow. To see what classes are coming up, check out our full schedule.
Affordable Memberships
You work hard for your money and we believe you should receive good value for it! For a student to take two Pole Fitness Classes and one drop-in class a week, the cost would be approximately $260 per month. Our membership offers 2 registered pole or Burlesque classes per session and unlimited drop-in classes for only $125 per month. That's a potential savings of upwards of $135 each month! For more information on our memberships click here.
Extra Practice Time
Practice makes perfect! For both beginner and advanced pole dancers, repetition is important to improve and master new skills. Embrace ensures multiple practices are posted every week to allow our students to get the extra practice time they need. In addition to practice time, we also offer 15 or 30 minute mini-private lessons during Open Pole Practice time. This is an affordable way for students to receive extra one-on-one attention and to have one of our knowledgeable instructors provide assistance with new tricks, reaching a specific goal, or preparing for a competition or performance. To book a private lesson, click here to send a request.
A Positive Environment
Embrace's mission is to provide a supportive environment for our students to reach their fitness goals. Our dedicated team of instructors go above and beyond to provide the best possible experience and encourage comradery between their fellow polers. Each new student is welcomed into our pole family and we hope they quickly see that pole friends are the best friends!
Have questions about our studio? We would love to hear from you! Contact Us here!