Pole Fitness classes are one-hour in length and are scheduled on a drop-in basis. Each class involves a warm-up, pole lesson, and conditioning. Experience the excitement of learning spins and tricks while improving your strength, flexibility, and coordination.

Intro to Pole Fitness
Curious about pole fitness? This introductory class is designed for students who are new to pole fitness. In this class you will learn fundamental strength holds and spins. No prerequisites. All fitness levels welcome!
Level 1 Pole Fitness
Learn the basics of pole fitness! This series is perfect for students who are new to pole fitness. In this class you will learn fundamental strength holds and spins. It is highly recommended that students complete Intro to Pole Fitness prior to registering for Level 1.
Level 2 Pole Fitness
Build on the basics and take your fitness to new heights! Level 2 will introduce climbing and spinning pole, as well as continue to develop students' strength and coordination.
Level 3 Pole Fitness
Flip your fitness upside down! Level 3 will introduce inverting on the pole and intermediate level spins.
Level 4 Pole Fitness
Level 4 will involve combining inverted pole tricks while introducing advanced spin combinations.  Examples of Level 4 tricks include leg hangs, shoulder mounts, and extended butterfly.
Level 5 Pole Fitness
Continue to build strength and fluidity as you are introduced to advanced pole tricks. Examples of Level 5 tricks include Ayesha, Jade Split, and Brass Monkey.
Level 6 Pole Fitness
Find your inner pole artist with exciting pole tricks and aerial combinations. Examples of Level 6 tricks include Handspring, Janeiro, and Satellite.
Level 7 Pole Fitness
Level 7 is a master level class designed for our most advanced students. Students are inspired to create challenging combinations and intricate sequences. Examples of Level 7 tricks include Iron X, Russian Split, and Shoulder Mount Planche.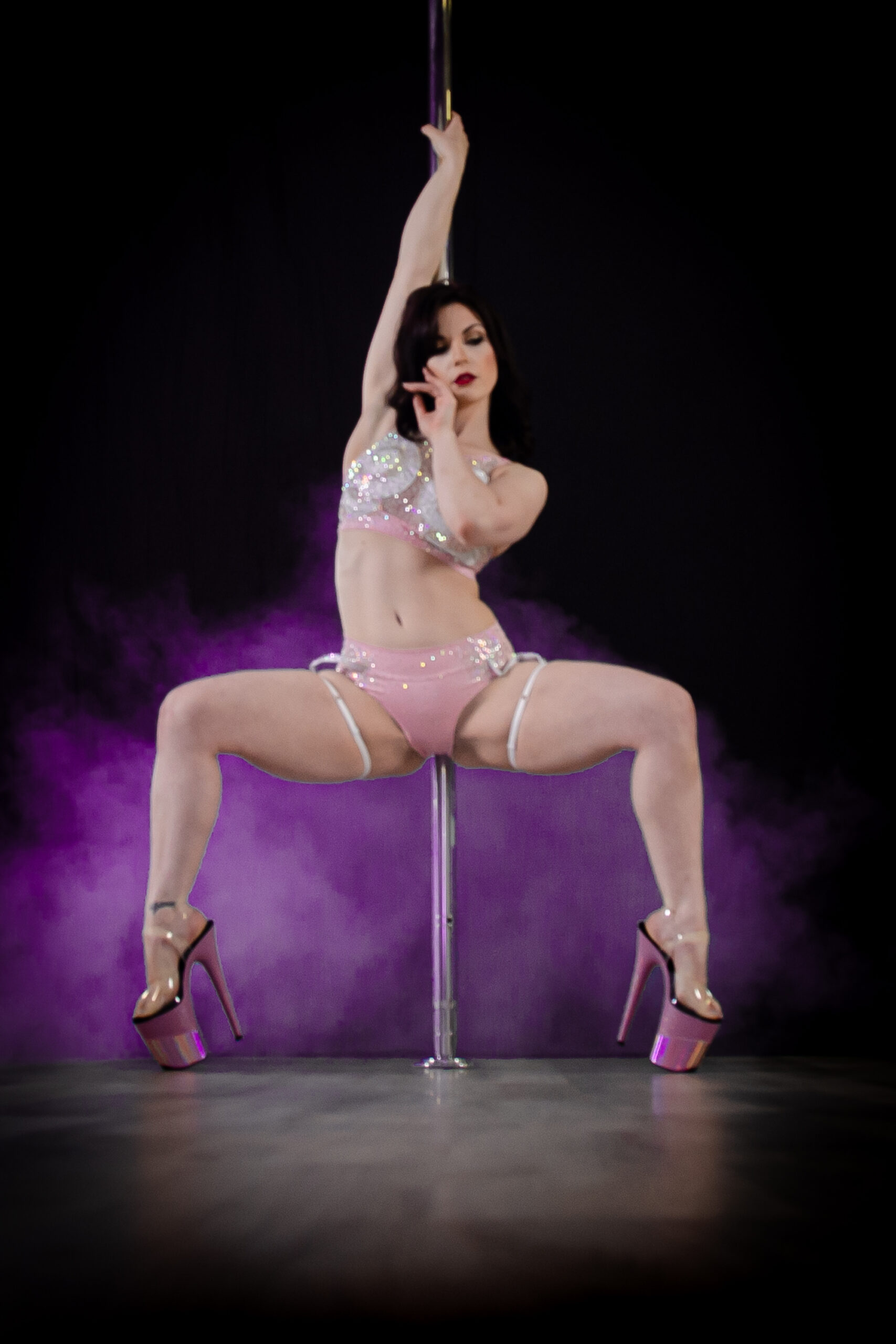 Embrace the sexy side of pole fitness and explore the sensual roots of modern pole dancing. Learn a variety of styles with technique and choreography classes including:
Levelled Heels Classes (Beginner, Intermediate, and Advanced)
Heels Technique
Heels Choreography
Fierce & Filthy, and
Fast & Fierce
It is recommended students complete Level 1 Pole Fitness prior to joining an Heels class. Pole heels are required for all Heels classes.
To purchase pole heels, we recommend ShoeFreaks. Use promo code EMBRACE for 15% off!
Pole labs are mini-workshops that focus on specific skills, styles, or choreography.  Examples include:
Pole Art Choreography
Chair Tricks
Low Flow & Floorwork
Dynamic Tricks
Doubles Pole
And so much more!
Don't forget to read the prerequisites listed in the class descriptions prior to registering.
Sign Up Now!
Our drop-in fitness classes are designed to complement your pole training, with most open to all fitness levels.
All Levels Stretch: No matter what your fitness goals are, stretching can improve your performance in physical activities and reduce your risk for injury. This class will help increase your overall flexibility and is an ideal complement to any fitness regime.
Dancer's Stretch & Strength is a stretch class inspired by dancers to build an active range of flexibility. Students will work on stretch technique and resistance training to increase flexibility and improve their active range of motion. Suitable for all levels of flexibility.
Barre is a full body workout that uses the principles of ballet to strengthen, tighten and tone. This class also helps improve posture, balance, and flexibility. No dance experience required!
Handstand & Balancing classes explore freestanding and pole-based balances using techniques from gymnastics, yoga, and circus training.  Learn the fundamentals of balancing or expand your balancing repertoire in our handstand classes:
Handstand Basics
Handstands & Balancing
Handstand Drills & Conditioning
Polestands
Pole Conditioning classes give you a full body workout and target muscles used by aerialists to perform the coolest tricks. Whether you're a beginner poler or an advanced pole goddess, this class is for you!
Twerk classes explore basic twerk techniques with a certified Twerk Technician®. There are options for every booty:
Basic B**ch Twerk
Not So Basic Twerk
Twerk Out
Sign Up Now!
Our Burlesque classes and workshops use use classic and neo-Burlesque styles and incorporate props, chairs, and/or stockings. Burlesque classes include:
Burlesque Choreography
Holiday Themed Classes
Burlesque-Pole Fusion
Sign Up Now!
Private and semi-private lessons are perfect for individuals with specific goals, limitations, or who require individualized attention. Private lessons are also available for students looking for assistance in choreographing competition or showcase performance pieces.  Choose from:
Private/Semi-Private lessons
Virtual private lessons
Mini-Private lessons during Practice times
Competitions Packages
Lessons are scheduled based on instructor's availability. Contact us for more information.
Whether it's a bachelorette party, birthday, team building, or special event, an Embrace party is the perfect night out! Parties can be tailored to suit your specific group's needs. Party options include:
Pole dancing
Chair dancing
Twerk
Heels
Burlesque
CONTACT US today to book your event!
Practice makes perfect! Embrace has several options for students wishing to practice what they have learned in class:
Open Pole Practice – Full studio access for practice and rehearsal. Students are able to play music for routine rehearsals and share the entire space.
1/2 Studio Pole Practice – Access to half the studio for practice. As a class will be running simultaneously, students do not have access to music.
Private Studio Bookings – For information on private studio bookings, please email  lauren@embracepoleart.com.
While an instructor will be present for safety, practices are self directed.