Join us for the first annual Embrace – Pole Art & Fitness
Christmas Camp
This camp will feature 6 different workshops with your favourite team of instructors.
Each class is $20. Members receive 25% off the regular price.
See the full schedule below.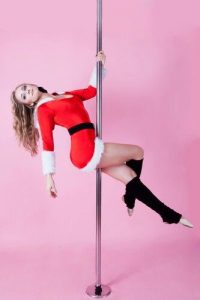 Click Here to download our Christmas Camp Poster
Have questions? Contact Us!
Tuesday, December 27 @ 6:00 pm
Handspring Master with Lauren
One hour intensive on handsprings, focusing on using different grips, different air positions, and improving the non-dominant side. We will also review training exercises for Iron-X and deadlift. Level 5 or higher recommended.
Tuesday, December 27 @ 6:00 pm
Inversion Ninja with Jade
Become a pro at inverting! Whether you're just starting your upside-down adventures or you're taking your inversions higher, this class is the perfect training tool. We will review basic inversions, aerial inverts, shoulder mounts, and funny grip invert. Level 3 or higher recommended.
Wednesday, December 28 @ 6:00 pm
Splits Intensive with Lauren
This stretch class focuses solely on splits. Feel improvement in just one hour! Open to all levels.
Thursday, December 29 @ 6:00 pm
FlipShop with Jade
Get your flip on in this fun and exciting class! Learn pole assisted flips and flip dismounts, as well as safe ways to train for flips. Level 4 or higher recommended.
Thursday, December 29 @ 7:00 pm
Brass Class with Keyona
Learn all things brass monkey! This class will review brass monkey variations as well as new and interesting ways to transition in and out of brass monkey tricks. Level 4 or higher recommended.
Friday, December 30 @ 6:00 pm
Get Low with Keyona
Find your flow with low transitions and floor work incorporating the pole. Level 2 or higher recommended.